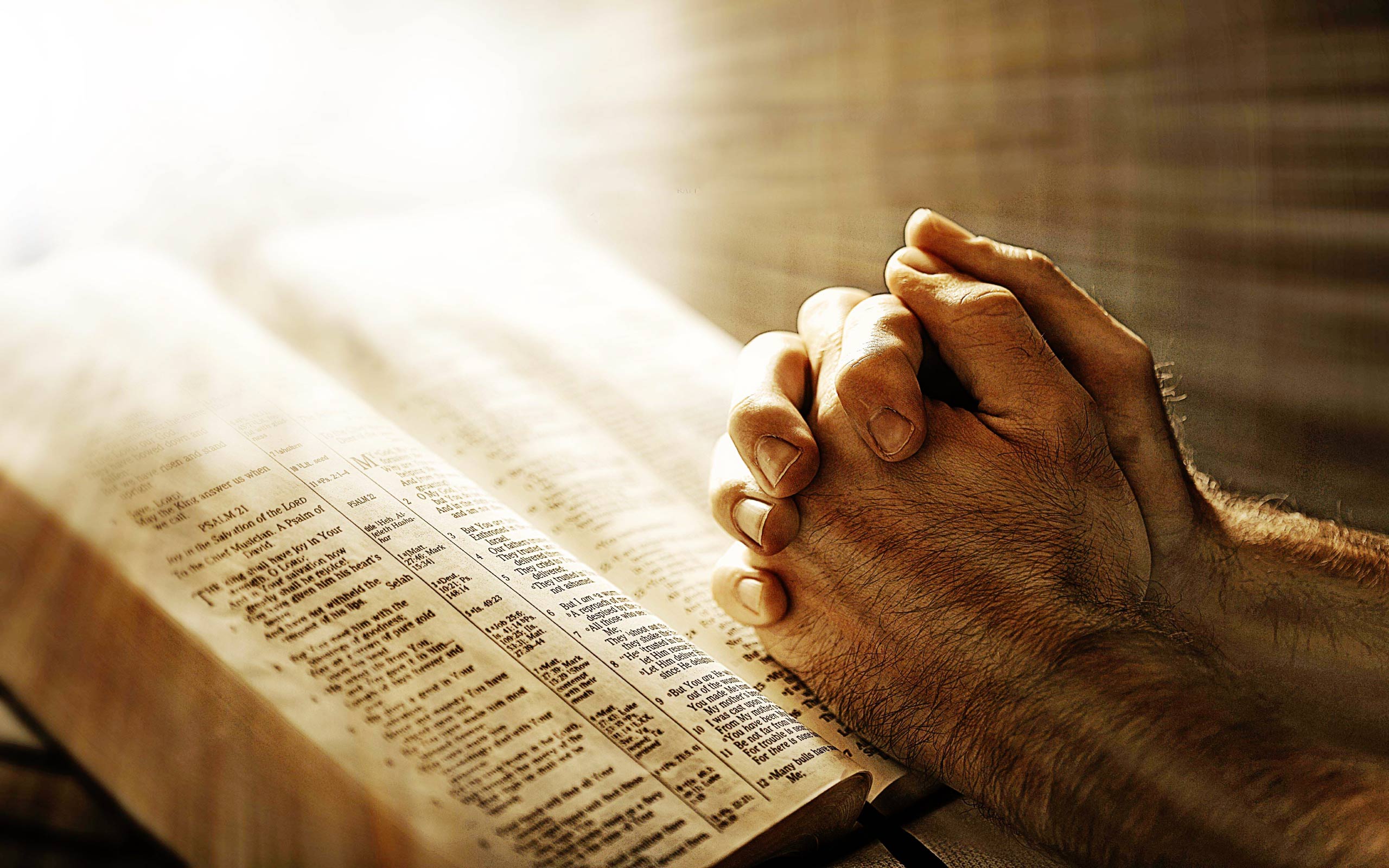 Prayer does not begin with us; it does not begin with our longings and desires or even with the truest and best intentions of the human heart. Prayer begins with the hearing of God's gracious words of life and salvation spoken to us in the Gospel of His Son. Just as faith comes by the hearing of Christ's words so prayer is created and sustained by the Word of the Lord. The confidence that God will hear our prayer cannot be found in our determination, in our fervency, or in our sincerity. The confidence that our prayer is heard is found not in the praying heart but in the promises of God. Christian prayer is not based on the instincts of the heart, instincts that by there very nature rob us of the fear, love, and trust in God above all things. Instead, our Lord invites us to pray in His name, that is, on the basis of His good and gracious will and His sure promises.
God Has the First Word
Prayer is often described as a conversation with God. This is a helpful image if we keep in mind that God always has the first word. We can speak to God in prayer only because God has first spoken to us in His Son. We are reminded of this reality in Psalm 51:15, "O Lord, open my lips, and my mouth shall show forth Your praise,". It is only as God opens lips locked by sin that mouths are free for the full-throated prayer that delights the ears of our Heavenly Father. When we sinners try to open our own lips in prayer, we know what happens. Instead of praise and thanksgiving, intercession and supplication, out come petitions of self-justification and attempts to bargain with God.
To use the language of Lutheran theology, prayer is not a means of grace. When we are troubled and tortured by our sin and the attacks of Satan we do not take comfort in the strength or sincerity of our praying. Our comfort comes only from God who richly bestows on us the forgiveness of sins, life, and salvation for the sake of the atoning death of Jesus Christ. This and this alone is the rock-solid gift won for us on Jesus' cross and delivered to us in the means of grace. Our confidence is not to be found in our prayers but in God's work in Word and Sacrament. In the conversation of prayer, we speak to God because we have first listened to the Holy Trinity in His Word. The God who has given us His Son tenderly invites us to trust His Word and call upon His name with boldness and confidence.
The Activity of Prayer
At its heart prayer is communication with God. It involves and invokes the presence of God. When we pray we are not far and distant from God. Instead it is a most intimate activity with our Lord in whom we live and have or being. The activity of God presupposes this relationship between the one praying and the One being addressed in prayer.
Often prayer is spoken of as consisting of four aspects, which together shape prayer along the New Testament model. These four aspect form an acrostic in the word ACTS: Adoration, Confession, Thanksgiving, Supplication.
            Adoration
Adoration consists of praising God for who He is. In keeping with the Lord's Prayer, which begins, "Our Father who art in heaven, hallowed by Thy name, we acknowledge the holiness of God's name and His nature. It is not our praying that makes God's name  holy, but when we speak the name of God and acknowledge His nature, we confess the One in whom we believe and trust. Adoration establishes for us the relationship we have by grace with our God. This then allows us to come to Him "with all boldness and confidence" and lay our petitions before Him "as dear children ask their dear father" (Luther: Explanation to The Lord's Prayer, Introduction).
            Confession
As we come to God acknowledging who He is, we are brought immediately to consider who we are, our own shortcomings and failures—our sin. Even as we speak of His holy name we must consider what we have done, or not done, that has failed to keep that name holy in our lives. Confession is the second aspect of prayer that flows naturally from adoration. Recall Isaiah, who as he was lifted up to the very throne of God where the angles gathered singing "Holy, holy, holy is the Lord," was at the very same time brought to a profound realization of his sin and the sin of his people (Isaiah 6:1-6).
Confession is not only the acknowledgement of sin but also the agreement with God that sin is abhorrent and incapable of existing in His holy presence. Sin has separated us from God, and in His righteous anger God punishes sin with death that would separate us from His holy presence forever. It is a necessary part of our relationship with God that "we should plead guilty of all sins, even those we are not aware of, as we do in the Lord's Prayer" (Luther: Explanation to Confession). Confession is a prerequisite to the reception of God's gracious word of comfort, hope, and forgiveness (e.g. Jeremiah 5:25, Psalm 66:18). God's messenger comes to Daniel, for example, while Daniel was "was speaking and praying, confessing my sin and the sin of my people Israel, and presenting my plea before the Lord my God" (Daniel 9:20).
            Thanksgiving
The third element of the human conversation with God that is prayer is thanksgiving, giving voice to our gratitude for what God had done and is doing, giving "thanks in all circumstances; for this is the will of God in Christ Jesus for you" (1Thessalonians 5:18). Thanksgiving differs from adoration in that the former focuses us on the nature and character of God, while the latter is our response to what God has done on our behalf. Thanksgiving is a natural outgrowth of confession as we acknowledge the grace that is ours because of the salvation wrought for us in God's Son, Jesus Christ. "If we confess our sins, he is faithful and just to forgive us our sins and to cleanse us from all unrighteousness" (1 John 1:9). The experience of being a redeemed and forgiven child of God results in a thankful heart.
            Supplication
The final facet of Christian prayer is supplication. This includes petitioning God on behalf of the needs of others (1 Thessalonians 5:25) as well as one's own needs (Philippians 4:6). The freedom that we have to come before God and ask anything is a result of being forgiven before God.
On our own we could not heed the words of our Lord when He invites us, "Ask, and it will be given to you; seek, and you will find; knock, and it will be opened to you" (Matthew 7:7). But because we first listen to God in His gracious Word of life and salvation our prayers are created and sustained not by our own will, dedication, or commitment, but by the will and power of Him has promises to hear us when we pray
---
Originally appeared in Teachers Interaction, Volume 47, no. 4 Summer 2006, pages 20, 21.